decking with up to 25 YEARS guarantee

At Nailed It Fencing, we provide our customers with skilful installation of high-quality timber and composite decking in the Cambridgeshire area. Our rot and insect resistant deck boards need little maintenance, making it a great addition to your outdoor space.
From our initial consultation to the finished decking project, our decking installation team is on-hand to ensure that you get a new timber deck, that you will fall in love with, and will give you a garden area you can enjoy all-year-round. 

Our Garden Decking Qualities:
Pressure

treated softwood decking boards

Safe, slip-resistant surface

25 Years Guarantee
No need for retreating
Appropriate drainage
Non-rust fastenings
Available anti-slip grit coat
Nailed It Fencing are specialist fence, gate and decking installers servicing the whole of Cambridgeshire.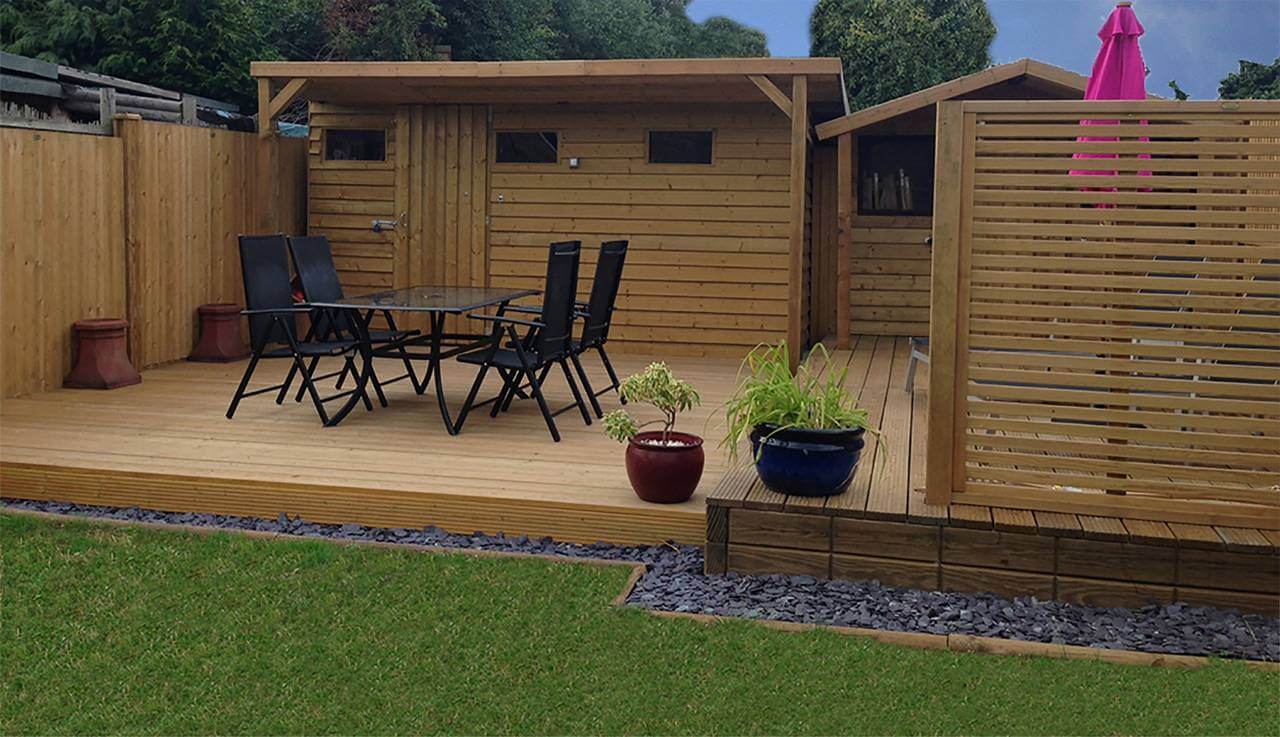 Timber Decking
At Nailed It Fencing we offer premium quality, pressure treated timber decking, making our decks rot resistant, as well as requiring minimal maintenance. With the 25 year guarantee that our products come with, you are provided with security that each decking board is going to last you for years. Our experienced team will finish your new decking project swiftly without causing many disruptions in your outdoor space.
To find out more and get a quotation for our timber decking, make an enquiry or call our team today.
Our Frequently Asked Questions
How do I get a quotation for my project with Nailed It Fencing?
You can call our team and speak to us today or fill out an easy enquire form. After learning more about what you are looking for, we will be able to give you an accurate quotation.
Do I get a guarantee for my decking?
Yes, our suppliers Jacksons Fencing give our products a 25 year guarantee for decking and landscaping solutions, as well as the fencing and gating products.
What areas does Nailed It Fencing team cover?
We take on jobs in Cambridge, St. Ives, St. Neots, Huntingdon and the rest of Cambridgeshire. However we are very flexible, so don't hesitate to call our team to discuss your area.
How much maintenance does my decking require?
We install decking, that requires very little maintenance. It is made out of quality pressure treated wood and non-rust fastenings, making it a long-lasting and practical addition to your garden. Our timber decking is grooved, giving it proper drainage and reducing the risk of rot even more.
What types of landscaping services do you offer?
Here at Nailed It Fencing we help our clients by building patios, decking, rockeries, other wooden structures and slab work; adding water features or composite installations to their garden; installing artificial grass, gravel and stone areas. We also offer garden redesign services.
What types of decking do you offer?
We offer installation of composite decking and timber decking projects for your outdoor space. The entire process of decking installation is seamless and non-destructive, making it so you can enjoy your new decking.
Looking to get new fencing or gates installed?